Georgetown Missing Signs Car Accident Lawyers
Have you or a loved one been in an accident caused by missing or inadequate signs near construction sites or other road dangers? Were you severely injured in the accident? You may be entitled to compensation for your injuries.
The Georgetown car accident attorneys at Evans Moore, LLC are knowledgeable and keenly experienced in handling these types of personal injury cases. Evans Moore, LLC will fight hard to help you get the justice you deserve from those who are responsible for your losses.
Call Evans Moore, LLC today at (843) 995-5000 for your free consultation. You can also contact us online. We're here to help you today.
Requirements for Signs Near Road Dangers and Construction Sites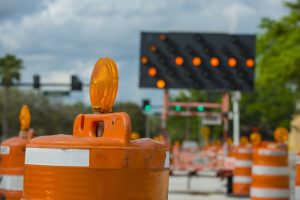 When driving, it's common to encounter construction sites or other road work activities. Road construction works can be confusing, as they sometimes require drivers to make a detour from the usual route. They also require you to be more cautious than usual because you may need to avoid any temporary damage to the road or be cognizant of construction workers. Because of this, construction sites on roads and highways can create additional risks for drivers. This is why it's important that proper and adequate signage be visible to alert drivers that construction work is happening and potential dangers exist.
The Occupational Safety and Health Administration, or OSHA, regulates and maintains standards for healthy working conditions for workers. As such, OSHA dictates that proper signage must be displayed at construction sites on roads and highways during the times that work is occurring to help protect the lives of both construction workers and drivers.
OSHA requires that proper signs and symbols be made visible at all times while construction work is ongoing and hazards are present. These signs include danger signs, caution signs, exit signs, other safety instructions, traffic control, and directional signs. OSHA provides guidelines for the color and size of the lettering of the signs to make them easily readable for most people.
If your accident happened because a construction site or road work zone lacked proper signage or had no signage at all, you may be entitled to compensation from the entity liable for the improper or missing signage. The liable parties could be the contractor or subcontractors for the construction work, the legal owner of the property, or even the city or state if it's a public road or highway.
Common Car Accident Injuries
Car accidents can cause devastating injuries. The injuries can vary in severity, and almost all require medical attention. Some injuries can be so severe that they're life-threatening or fatal. The following are some of the injuries that people can sustain when involved in a car accident:
Cuts and bruises
Severe burns
Impaired vision and hearing
Traumatic brain injuries (TBI) and concussions
Neck injuries, including whiplash
Spinal cord injuries, including paralysis
Post-Traumatic Stress Disorder (PTSD)
Mental health injuries, like depression or anxiety
Amputation
Internal injuries
Sprains and strains
Many of these injuries can have long-term repercussions on all aspects of your life, and the road to recovery can be difficult. Compensation from the responsible party can help make things a little easier.
Why Choose Us?
Evans Moore, LLC was founded in 2015, and ever since, attorneys Scott Evans and James B. Moore, III, have built a reputation for obtaining considerable settlements for clients across the state of South Carolina. In this time, Evans Moore, LLC has secured over $100 million in compensation for personal injury victims.
Both Evans and Moore have clerked for federal and state judges. If your case goes to trial, you can be confident in their ability to argue your case, as they have extensive experience presenting cases before the court.
In addition, the attorneys at Evans Moore, LLC have been recognized by numerous entities for their dedication to and success in representing people in personal injury cases. They were named two of the top 10 Best Attorneys in 2017 for Client Satisfaction by the American Institute of Personal Injury Attorneys.
Our attorneys are also natives of South Carolina. Their deep, personal ties to the state and their combined decades of experience make them invaluable assets to have on your team. You need attorneys who are knowledgeable about South Carolina personal injury law and compassionate in their support of you. Evans Moore, LLC is the firm you want by your side.
What You May Be Entitled To
You may be entitled to considerable compensation for the injuries you've suffered. When you're involved in a car accident due to inadequate or missing road signs, you deserve to be compensated for your injuries any financial losses that result.
In South Carolina, you can receive compensation in the form of economic, non-economic, and punitive damages.
Economic damages are compensation for the calculable costs you've incurred as a result of the accident. This includes the medical costs you've incurred to treat your accident-related injuries. Any medical bills you've received from the treatment for your injuries can be reimbursed by the person responsible. If you need continued medical treatment like physical therapy or rehabilitation, or if you need prescription drugs, you can be awarded economic damages to cover those expenses. These damages also compensate you for the income you've lost and may continue to lose after taking time off from work to heal from your injuries.
Non-economic damages are more subjective than economic damages. Damages awarded for car accident injuries are intended to make you whole or return you to the condition you were in before the crash. You deserve equal compensation for the pain and suffering you've experienced. The mental anguish you've endured or the decline in your quality of life should not go unaccounted for, and you can be awarded non-economic damages for these conditions.
Punitive damages are a rare form of compensation. If the person responsible for the accident acted willfully, with wantonness, or recklessly, they may have to compensate you an additional sum for their negligence. While rarely awarded, these damages serve to punish the responsible party and deter them from repeating their behavior in the future.
In South Carolina, you have three years from the date of the accident to file a personal injury lawsuit.
Call Us Today
If you've been injured in a car accident because of missing signage near dangerous construction or road dangers, you may be entitled to compensation for your injuries.  At Evans Moore, LLC, we are standing by to help you get the justice you deserve. Our attorneys are experienced, with decades of hard work and success representing clients in car accident injury cases.
Contact us today at (843) 995-5000 to schedule your free consultation or reach out to us online.