Mount Pleasant Injury & Victims' Rights Lawyers
Have you or a loved one been injured in an accident that wasn't your fault? You may be entitled to compensation. Suffering injuries due to someone else's negligence can be traumatic and costly. If you weren't at fault for the accident, you may be eligible to be compensated for your accident-related medical costs, loss of income, and more.
You need a competent, experienced, and compassionate Mount Pleasant personal injury attorney to help protect your rights and help you get the justice you deserve. At Evans Moore, LLC, we are prepared to go above and beyond to provide you with the best legal representation in your personal injury case. Contact us at (843) 995-5000 or reach out to us online to schedule your free consultation.
Types of Cases We Handle
The attorneys at Evans Moore, LLC are committed to providing the best legal representation for the people of Mount Pleasant. We have been successful in representing our clients in the following types of personal injury cases:
Additionally, we represent those who have been victims of police or jail misconduct, sexual misconduct, and civil rights violations.
Why Hire Evans Moore, LLC?
Attorneys Scott Evans and James B. Moore, III at Evans Moore, LLC have dedicated their lives to the practice of personal injury law. They've spent years honing their skills in representing victims in personal injury cases through their federal and state judicial clerkships and pro-bono work and trial experience.
We are South Carolina natives at Evans Moore, LLC, and we have worked hard to build a reputation for fighting for justice for accident victims. In less than a decade, we've won over $100 million in compensation for victims of personal injury accidents.
The success that Evans Moore, LLC has had in representing the people of South Carolina has not gone unnoticed by various entities and organizations. Attorneys Evans and Moore were named "Rising Stars" by South Carolina's SuperLawyer magazine, and they were recognized as part of the American Society of Legal Advocates' Top 40 Lawyers Under 40.
Our Results
We have a proven track record in winning many of our clients' personal injury cases and helping them get the justice they so rightly deserve. These are just several of the settlements and awards we've helped our clients receive:
$3.9 million in a products liability lawsuit
$1.5 million in a medical malpractice and wrongful death lawsuit
$1.5 million in a products liability lawsuit
$1.3 million in an auto accident lawsuit
$1 million in a trucking accident lawsuit
Almost $500,000 in a slip and fall lawsuit
We emphasize that while we've had success in securing considerable compensation for our clients, past success does not dictate future outcomes. We can't promise a specific result, as each and every case is different and has to be judged on its individual merits. What we can promise, however, is that we will work as hard on your case as we've done for others and will use the knowledge and experience we've gained over the course of our work to build the best case for you.
Compensation for Your Injuries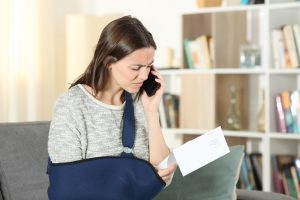 Whether you've been injured in a car accident or a slip and fall or any other type of accident that wasn't your fault, you can be compensated for those injuries by the person or entity responsible for the accident. As long as you are within three years since the date of your accident, you can file a personal injury lawsuit in the state of South Carolina.
There are several different types of damages that may be included in your compensation. "Damages" is the term used for the money that will cover your accident-related losses. The two most common forms of compensation are economic damages and non-economic damages. The main difference between the two is one is a calculable, generally objective type of compensation (economic damages), and the other is more subjective (non-economic damages).
Economic damages cover medical costs associated with treatment you received for the injuries caused by the accident. You can be reimbursed for past medical costs or paid for any future medical costs related to your injuries. Economic damages also cover any home or car assistance modifications you may need as a result of your injuries, loss of income, loss of future income, and reimbursement for accident-related property damage.
Non-economic damages are awarded as a means to compensate you for the impact your injuries have had on other areas of your life — primarily, your mental health and any change in the quality of your life. Recovering from injuries can be traumatic and long-lasting, and the mental anguish you have to endure as a result may lead you to acquire new conditions, such as anxiety or depression. Your life can change drastically and unexpectedly. You may be compensated for that pain and suffering. Your family can also be compensated — called a loss of consortium — for the impact the accident has on them while they support your healing.
Depending on what kind of accident you've been in and what caused your injuries, the amount of non-economic damages you may be awarded in South Carolina may be capped.
Another form of compensation is rare and can only be awarded by a judge or jury. Punitive damages serve to punish the liable party and deter them and others from committing the same negligent act in the future. In South Carolina, if the person who caused your accident is found to have acted willfully, wantonly, or recklessly, they may be ordered to pay punitive damages.
Call Us
If you've been injured in an accident that wasn't your fault, the experienced attorneys at Evans Moore, LLC are here to help you. You may be entitled to compensation for your losses. We provide top-notch legal services to those who need it most after they've suffered injuries through no fault of their own.
Evans Moore, LLC works on a contingency basis. That means you pay nothing upfront. We will work on your case and fight to get you the compensation you're due. We take out payment as an agreed-upon percentage from the money we get for you. If we don't get you any money, you'll never owe us anything.
We are committed to helping you get the justice you deserve. Call (843) 995-5000 today to schedule your free consultation or contact us online.