Wildwood Personal Injury and Victims' Rights Lawyers
Have you suffered an injury or illness in Wildwood due to the negligence or carelessness of another? If so, you may have a valid personal injury claim against the responsible party. Injuries sustained in accidents caused by others are often both physically and emotionally traumatic. They can also be financially devastating. Nothing seems more unfair than facing a financial burden and uncertain future due to the actions of someone else.
The Wildwood personal injury lawyers at Evans Moore, LLC were born and raised in South Carolina. They are passionate about helping their Wildwood personal injury clients get the compensation they deserve from their claims. You should be able to focus on your recovery without a large financial burden hanging over your head.
If you've suffered an injury due to someone else's negligence or carelessness, it's worth a phone call to (843) 995-5000 to schedule your free consultation or fill out the form on our website.
Personal Injury Claims in Wildwood
Wildwood personal injury claims can develop for a variety of reasons. Automobile accidents are one of the most common. Injuries at work or someone's place of business can also cause an injury that leads to a successful personal injury claim. For example, if you are shopping in Wildwood and the store owner doesn't adequately warn you about a loose floorboard or wet floor and you suffer an injury as a result, that store owner could be held responsible under South Carolina premises liability laws.
Common causes of personal injury claims in Wildwood include:
If the experienced Wildwood personal injury lawyers of Evans Moore, LLC take your case, you will receive personal attention from both Mr. Moore and Mr. Evans. Both of these award-winning attorneys will treat your case with patience and care while fighting hard for your rights to get you the justice you deserve.
Frequently Asked Questions
While the experienced Wildwood personal injury legal team of Evans Moore, LLC cannot comment on your specific personal injury until we review your case, we can answer some common questions that people have about filing personal injury claims in Wildwood and what a difference an experienced personal injury attorney can make in your current and future quality of life. Contact us at (843) 995-5000 so we can talk about your case, your rights, and your chances of successfully holding any responsible parties accountable for your personal injury.
How do I know if I have a personal injury claim?
If you believe your injury is the result of someone else's carelessness or negligence, even if it wasn't intentional, you may be able to file a personal injury claim. If successful, you could receive financial compensation that can help you with your medical expenses and other damages that occurred during the incident. For example, if you slipped on a wet floor at the grocery store, breaking your wrist and damaging an expensive watch, you could get enough to cover your medical expenses for your wrist injury and to cover the cost of your watch.
Even if the other party claims that you were somehow partly to blame for the accident, under South Carolina's modified comparative negligence rule, you can file a claim as long as your share of fault for the accident was less than 50 percent.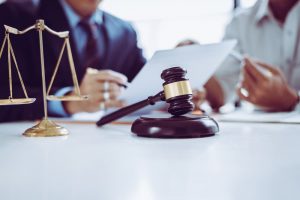 For your claim to be successful, you must prove that someone else was at fault for your accident. To do that, you must demonstrate that they were negligent. That means that they should have taken reasonable care that their actions would not hurt anyone, but they didn't. You'll also need to show that their actions caused an accident in which you were injured and that your injuries created actual losses for you. When you prove these things, you'll also show that you wouldn't have been injured unless the other party acted carelessly.
This is why it's important to contact an experienced Wildwood personal injury attorney as soon as possible after any incident. At Evans Moore, LLC, we have the experience and the resources to conduct an investigation and gather the necessary evidence to file a claim. We know the kinds of evidence required to build a strong case that shows you should be compensated.
How much money can I receive from my personal injury claim?
It's impossible to estimate how much financial compensation you might be able to receive without fully reviewing your case. Even then, we cannot guarantee exact results. What we at Evans Moore, LLC can do is point to our many clients with similar personal injury cases who came to us for help, and got it.
Even if you think your injury is too small to bother with, you need to think about how it may affect you years from now, not just how you feel today. Waiting until something comes up years later may be too late. An experienced attorney often sees cases like yours and will know how to help you fully account for any losses you may incur as part of your personal injury claim.
How much is this going to cost me?
At one of the most difficult times in your life, and possibly the most expensive, the last thing we at Evans Moore, LLC want you to think about is spending more money. That's why we offer free consultations, and if we believe the facts support your claim and decide to take your case, you won't pay a dime until you we get compensation for you.
Consult With a Personal Injury Attorney in Wildwood
At Evans Moore, LLC, we hope you understand how important it is to contact us about your possible personal injury claim. We will defend your rights when you suffer due to someone else's careless or negligent actions. Let us begin evaluating your legal options today so you don't spend another day worrying and waiting for justice. Call us at (843) 995-5000 today. The call and the consultation are free.